Editor's note: Find the latest COVID-19 news and guidance in Medscape's Coronavirus Resource Center.
Vaccinating all teachers against COVID-19 before schools reopen isn't doable, Anthony Fauci, MD, director of the National Institute of Allergy and Infectious Diseases, said Wednesday.
"If you are going to say that every single teacher needs to be vaccinated before you get back to school, I believe quite frankly that's a non-workable situation," he said on CBS This Morning.
Fauci, who also serves as President Joe Biden's chief medical adviser, added that teachers should "absolutely" be prioritized as essential workers in immunization eligibility schedules. However, schools shouldn't remain closed until every teacher is vaccinated, he said.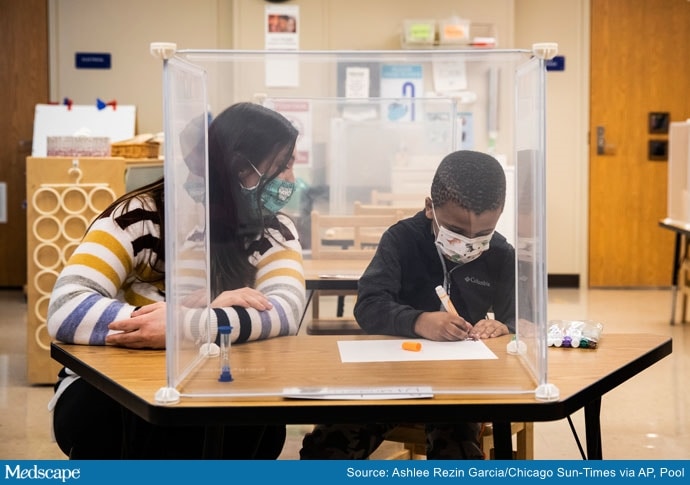 Chicago Public Schools students began their return to the classroom Monday as school doors opened to thousands of pre-kindergarten and some special education students after going remote last March due to the coronavirus pandemic.
"You should try to get as many teachers as you possibly can vaccinated as quickly as you possibly can," he said. "You don't want to essentially have nobody in school until all the teachers get vaccinated."
Reopening schools has become a major question under the Biden administration, with some officials unable to provide clear answers, according to Politico. During a town hall on Tuesday, Biden said his goal is to reopen K-8 schools by the end of the first 100 days of his administration.
Earlier this month, Rochelle Walensky, director of the CDC, also said that teachers don't need to be vaccinated for schools to open safely again. On Wednesday, Jen Psaki, the White House press secretary, agreed that vaccinating teachers isn't necessary for reopening schools, according to The Hill .
"Neither the president nor the vice president believe that it is a requirement," Psaki said during a press briefing.
"At the same time, the president and vice president also believe that teachers should be prioritized," she said. "That's up to states to determine."
The CDC's Operational Strategy for K-12 Schools, which was released on Friday, says vaccinating teachers offers an "additional layer of protection" against COVID-19 but that it shouldn't be required to reopen in-person learning. The guidelines emphasize social distancing and masking, along with smaller class sizes and monitoring of COVID-19 transmission at the local level.
"It is critical for schools to open as safely and as soon as possible, and remain open, to achieve the benefits of in-person learning and key support services," according to the CDC guidance.
"To enable schools to open safely and remain open, it is important to adopt and consistently implement actions to slow the spread of SARS-CoV-2 both in schools and in the community," the guidance says.
Sources
CBS News, "Dr. Fauci on COVID-19 vaccination efforts."
Politico, "Fauci: 'Non-workable' to vaccinate teachers before schools open."
The Hill, "White House says teacher vaccinations not required for schools to reopen."
CDC, "Operational Strategy for K-12 Schools through Phased Mitigation."
Source: Read Full Article