A series of new programs run for women by the Queen Victoria Women's Centre aims to engage a wider audience, encourage interaction and bring together women from across the state.
Jo Porter, CEO of the centre, comes from an arts background, which  underpins her philosophy around what the centre can achieve.
She was previously a board member at Back to Back Theatre, an executive producer at the Malthouse and head of creative development for Richard Frankel Productions (producer of The Producers and Hairspray) in New York, as well as head of business development at Andrew Lloyd Webber's The Really Useful Group in London, so she has seen first-hand the empowering nature of art.
Porter says the creative and intellectual power in the Queen Victoria Women's Centre is inspiring.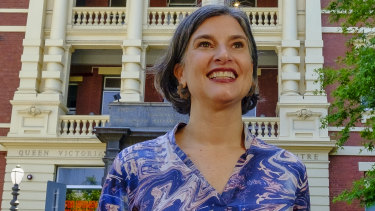 Jo Porter says the centre is designed for all women and aims to help self-expression and participation.Credit: Luis Enrique Ascui
"It really is about helping people participate and what will make an impact in their lives, what will make social connections and really contribute to enhancing their lives as well as their social connectedness," she says.
Since becoming CEO in January, she has conducted extensive research into what women want the centre to provide.
At celebrations of International Women's Day at the Queen Victoria building, at the Clunes Town Hall and at a dinner celebrating Iftar, the end of Ramadan, attendees were asked for their input.
The women involved came from diverse backgrounds, and their thoughts provided significant cues for the centre's direction.
Porter sees cultural participation as providing agency and self-actualisation, and that belief underpins the program of events released last week.
Art and culture are used to address issues including depression, loneliness and isolation, the rates of which have increased dramatically in women over the past decade.
According to last year's annual report, the centre was used by almost 15,000 women.
The new program includes initiatives such as a Thinker in Residence, open solely to women, which provides an individual – whether a writer, intellectual, entrepreneur or philosopher – with a stipend and a space to reflect on and create work that responds to the centre's mission.
Some of the first babies in the nursery at the old Queen Victoria women's hospital, now home to the centre.Credit:Courtesy of Monash Health Archives
In March next year a new shop on site, to be headed by Abi Crompton of Third Drawer Down, will stock the work of women artists and makers from around Victoria.
A podcast created by queer theatre-makers Lou Wall and Jean Tong brings together two queer women each week to work out how they would survive the end of the world. Called Apodcalypse, it's an experimental format, an audio "choose your own adventure" show.
Porter is keen to create a "centre without walls", providing services that reach beyond the city. Technology helps facilitate that, as the podcast shows. A series of interviews with inspiring women will also be featured online.
Encouraging access for women from diverse backgrounds is central to the centre's focus. There will be exhibitions of work by female artists and the centre will continue as a home for several major Melbourne events, including the Writer's Festival and Melbourne Festival.
Free events are plentiful, eradicating at least one traditional barrier to entry. There is also a rest area with couches and a drinking fountain, toilets and a shower available to women.
Queen Victoria Women's Centre was set up through an act of Parliament in 1994, thanks in large part to fierce lobbying on behalf of women who were concerned the building would be removed and turned into office towers. Developers had an eye on the buildings: the women's hospital had moved out to Monash and many of the original QV buildings were demolished.
Thankfully, Tower E, where the centre is housed, was saved.
All building tenants provide services for women, including: Counterpart; CASA House; Domestic Violence Victoria; Emily's List; Ovarian Council Australia; Fitted For Work; and the Council of Single Mothers and their Children.
Porter says the centre is designed for everyone, aiming to help self-expression and participation, and to help women get together to exchange ideas and find out new things.
"Here we are; this is your place, come and enjoy it. Don't be a stranger," she says.
Source: Read Full Article