Kaylyn Willis has spent 13 years trying to become a nurse while raising three children and working in the medical profession. So the 39-year-old is not giving up after recently being expelled from a nursing program at Umpqua Community College (UCC), in Roseburg, Oregon.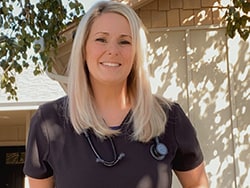 Kaylyn Willis
The decision to expel followed her completion of a writing assignment the college labeled "insensitive." But UCC claims it expelled her not because of the assignment alone but also because of a pattern of "unprofessional conduct" that Willis displayed over several months in the program.
Willis submitted the assignment for her Chronic 1 class on loss and coping during the first year of a 2-year program. It was part of ongoing class blogging exercises. According to a recent press release from the nonprofit organization, Foundation for Individual Rights in Education (FIRE), the assignment specified: "Whomever you identified as your primary support person last week is no longer available to you because of death, divorce or deployment/relocation…. Using your critical imagining and reasoning, provide information on who is gone, why, and how you are feeling and what you are going to do now."
In her post, Willis described her feelings after shooting her fictional husband, a scenario based on a 2015 news story she had read in The New York Times about a man who shot and killed his wife but was judged not guilty because of mental illness.
Coincidentally, UCC was the site of a shooting rampage in 2015 in which a man killed nine people and wounded eight others before taking his own life. Willis, who grew up in the area, told Medscape Medical News that she knew about the shooting but said her writing wasn't about UCC or that specific incident. She believed she was addressing a real-life scenario nurses face: domestic violence. "Especially when you talk about the medical field, we deal with a lot of things…. It's a very real part of the profession."
Willis argues that she completed the assignment correctly. FIRE, arguing on Willis' behalf in an August 16 letter to the school president, stated that "while the depiction of spousal abuse and violence described in the student's assignment may be offensive to some, it does not fall into a category of speech unprotected by the First Amendment, which bars UCC from punishing protected expression." FIRE requested UCC to drop its disciplinary charges against Willis and to readmit her to the nursing program. FIRE presented Willis' case to the school free of charge to her, and the organization is not her legal representative.
Expulsion Based on "Behavior," Not Assignment
Included in the FIRE press release was a September 1 response from a UCC lawyer, Dee Rubanoff. She explained why the college declined the student's request for reinstatement. The decision to expel Willis was "based on the cumulative effect of Ms. Willis' behavior over the course of several months," Rubanoff said.
Rubanoff noted that that behavior occurred after Willis failed out of the nursing program at the end of her first term. Willis told Medscape Medical News that she had received a grade of 89 in the class but had not passed the final test. Willis later reapplied and was readmitted to the program.
UCC's academic standards, which FIRE shared with Medscape, state, "Students that are re-entering the program…will re-start with 'zero' strikes."
In her response to FIRE, Rubanoff also stated that Willis exhibited "unprofessional conduct" after a previous behavioral strike "that would have been independent justification for removing Ms. Willis from the program."
Anne Marie Tamburro, program officer of FIRE's Individual Rights Defense Program, explained to Medscape that the previous strike and "unprofessional conduct" referred to missed deadlines.
After the first behavioral strike, Willis was given "yet another chance to demonstrate fitness under the professional standards," Rubanoff stated in her letter. At the same time, the nursing director supported Willis' plea to nearby Mercy Hospital that she be allowed to perform her clinicals there. Last year Willis was fired from her job in the hospital's emergency department because of a video she had filmed there that was labeled "racially insensitive," Rubanoff stated. The nursing director later decided that to uphold professional standards, it was necessary to remove Willis from the program, Rubanoff explained.
Rubanoff said that Willis was "not removed from the program based on UCC's general misconduct policies, but based on the higher standards of the nursing program that Ms. Willis had agreed to abide by in the contract that she signed."
Free Speech Challenge
FIRE's Tamburro acknowledged Willis' disciplinary history. "She had some prior behavioral incidents contributing to her record at the time of removal. However, UCC ultimately removed her from the program because it took issue with her speech. If not for punishing her for her post, Kaylyn would still be enrolled in the nursing program."
Willis said that, in hindsight, she understands how someone might take offense to the video she filmed at the hospital. "It was probably not the best idea on my part," she said.
But she stands by her decision to write about the shooting. "I checked every box of the assignment. They had an emotional reaction and acted off that emotional reaction and expelled me from the program," she said.
UCC President Rachel Pokrandt said in a prepared statement to Medscape that although she couldn't discuss specifics of a students' record, the information on FIRE's "webpage does not represent the entire record of the student in question, and the college is confident that it followed all procedures and policies governing the UCC nursing program and student conduct in this case.
"UCC respects students' free speech rights, however, those rights are not unlimited, particularly when a student signs an agreement, as in the nursing program, to comply with the applicable behavioral standards of the profession. Students in the nursing program are given multiple chances to comply with those professional standards, and a student typically would not be dismissed from the program solely because of one violation."
Willis told Medscape the incident has not deterred her from working in the medical field. She currently serves as a certified medical assistant at a local clinic. As she considers legal action, she remains determined to become a nurse.
"I plan to exhaust all resources," she said. "It's important to me to stand up for what I believe is right. Ultimately, I want to finish school, to finish what I started."
For more news, follow Medscape on Facebook, Twitter, Instagram, and YouTube.
Source: Read Full Article