Ability to schedule a prompt appointment, patient satisfaction percentages, and revenue compared to cost — these are some metrics that oncology practices track to ensure they're running a successful practice and see how they measure up against their peers.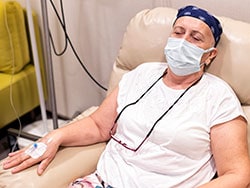 "Once practices figure out what they want to measure, and obviously they want to measure things that they're not doing so well, they can look for opportunities for improvement," says Diana Berich Brieva, DHA, MBA, CPC-A, the CEO of Ambulatory Care Consultants, which partners with medical practices to optimize operations and increase revenue.
Benchmarking your practice against others shows you how your numbers stack up to other practices' metrics by percentile — for instance, whether your revenue is in the 25th, 50th, or 75th percentile against similar practices.
The 2024 MIPS Value Pathways (MVP) for Advancing Cancer Care is a new CMS program with specific metric criteria. The voluntary program has a November 30, 2023, deadline for practices to sign up. The purpose of the program is to help practices identify areas where they can improve. Also, oncology societies like the American Society of Clinical Oncology (ASCO) have also developed metrics for this specialty.
Still, for many practices, it's essential to develop your own metrics according to your patient population and available resources, explains Brieva.
Here are seven popular oncology metrics that many practices track to measure success.
1. Productivity
Every practice may think about productivity differently depending on whether it focuses on new patients, revenue, business development, or a combination. You can measure physician productivity in many ways: by the number of new patients per full-time employee (FTE), work relative value units (wRVU) per FTE, which measures physician work, and established patient visits.
Some clinics measure for wRVU for chemotherapy administration and per-hospital visits as a percentage of total patients as well. "We're a community-based oncology practice, so we don't use RVUs, but we do use other production numbers," says Emily Touloukian, DO, an oncologist-hematologist and president of Coastal Cancer Center with four locations around South Carolina. She is also an assistant professor of internal medicine at the University of South Carolina, Columbia.
"There are lots of quality programs out there that measure how well oncology practices are meeting guidelines. The one we've participated with since its inception is [the] Quality Oncology Practice Initiative (QOPI) through [the] American Society of Clinical Oncology (ASCO)," says Touloukian. "Basically, it's a chart review and extraction of various indicators in accordance with quality measures."
Pontchartrain Cancer Center, with four locations around Louisiana, tracks the number of new patients in hematology and oncology by location and provider. They also track follow-up patients. New and follow-up patient metrics are broken down by visit code.
"The ENM code tells me the level of acuity that the physician coded for," says Kathy Oubre, MS, the CEO of Pontchartrain. Patients with complicated cases get a higher-paying code since clinics get paid differently for each code. Oubre tracks the codes by provider and says if they bill every patient with the same code, it can put your practice at risk for an audit, even when it's the lowest billable code.
In the 2019 ASCO survey, the number of new patient visits reported by participants averaged 301 visits per FTE. Established patient visits (office visits for patients who have been there previously) averaged 3334.
"When we talk about metrics and how we measure things and how successful our practice is, productivity also has to do with how satisfied the people working for you and with you are," says Touloukian.
"If you're not providing a supportive workplace for your physicians and employees, you're not going to be successful," she says. "You'll end up with doctors coming and going every 2 years, employees quitting all the time, and a need for retraining." Instead, if you can create a welcoming, sustainable environment where people are happy to come to work, physicians aren't burnt out, and get to spend time away from the clinic to recharge, productivity will be more successful.
2. Revenue
When participating in their voluntary survey, practices can get a copy of revenue metric data annually from the Medical Group Management Association (MGMA). It collects the number of FTE, gross revenue, net revenue, and collection rate and is broken down by specialties so your practice can benchmark against others. Total revenue, including oncologists' salaries per FTE from the ASCO survey, was $7,323,900, but comparisons are difficult since practices differ in services.
Revenue metrics can consist of total revenue (cash collections), net medical excluding radiation services, drug revenue for infusion services, cash expenses including salaries, net accounts receivable, and gross accounts receivable minus contractual allowances and bad debt. Practices can differ on bad debt collection due to the emotional nature of cancer treatment. However, some use revenue cycle management companies with debt collection services; others find charity foundation funds for patients who can't pay.
Pontchartrain also tracks when its clinic gets paid. Oubre says the best practice is that your claims receive payment within 21 days. They send claims out every 24 hours. "For example, most of that money is in drugs we've administered to patients we've likely already paid for." Since there is a gap between paying their wholesaler for drugs and receiving reimbursement, they closely track claims and payment metrics.
Any claims that get sent back are refiled and sent out again within 24 hours. When claims hit 31 days without a response, the practice reaches out to learn the problem. "We're proactive rather than waiting for the denial to come," Oubre tells Medscape.
Brieva says for every revenue metric a practice tracks in which they're not performing well, the practice has to find a solution. Are too many claims being denied? Do claim forms contain errors? Are most claims being paid in the 21-day window? Is the problem a user error, an issue with the clearinghouse, or an intake error on the other end? The key to successful metric use is to drill down for answers to these questions.
3. Patient Satisfaction
Patient satisfaction may be one of the more straightforward metrics practices can track, though not specific to oncology. Brieva says most metric programs include patient satisfaction surveys against which you can benchmark your practice. You can also create your own emailed patient surveys. The metric can show how satisfied your patients are and how you compare against other practices.
Oubre says Pontchartrain also tracks metrics around participating in advanced care planning, survivorship care, and transitional care management. Even though most insurers require copays for these services, they've found patients who participate in them have an overall better experience.
"The Biden administration also has a Cancer Moon Shot initiative, which intends to reduce cancer deaths by 50% by 2047," says Brieva. "They want to reduce deaths and improve the experience of patients. So, tracking survival rates will also be key for this program."
4. Referrals
Oncology is typically a referral business. So, keeping track of the top referring physicians every quarter is the best way to ensure your referring clinicians are happy with your practice's service. A best practice is that all new oncology referrals are seen within 48 hours. If your referral metric drops off, especially for top referrers, a physician from your practice should check in with the referrer.
Oubre runs reports out of the EMR and scrubs for referring providers, so she's alerted to any issues. "It can be as simple as a front office staff who was rude on the phone," she says. "We had an issue years ago with one of our schedulers who didn't want to risk staying after 5:00 PM, so she wouldn't put anyone on the schedule after 3:00. But if I hadn't called and identified that from the referring practitioner, I wouldn't have known that they couldn't get late-afternoon appointments at our clinic."
5. No-Show Appointments
Practices track no-shows per week to determine which patients did not show up for their visit vs rescheduled it. If a patient on active treatment starts no-showing, practices must find out why. Is it a social or a transportation issue, or do they want to discontinue treatment? Often, you can help with the problem if you know what it is.
"Sometimes we can help from a social determinants of health perspective, helping to provide services like transportation, financial assistance, or other things, and patients appreciate that we would care enough to reach out to see if we can help," says Oubre.
For recurring no-shows, practices should notify the referring provider. Letting the referring clinician know that the patient stopped coming is a professional courtesy that helps strengthen your referral relationships. You wouldn't want the referring physician to think the patient is being treated for cancer only to find out later that they discontinued treatment.
6. Injections and Infusions
By tracking the number of injections and infusions per location per week, clinics can assess how busy their chemo chairs are and how many injections they give. Benchmarks also include the number of initial intravenous infusions/injections and the total number of drug administration services per patient per chair. Similar metrics in radiation oncology are also helpful.
7. Pharmacy Prescriptions
For practices with an in-house pharmacy, tracking how many prescriptions are written per week by each provider and whether they could fill them in-house or had to send them out to a specialty pharmacy because of an insurance issue tells you the volume of drugs your pharmacy is fulfilling. Point-of-care dispensing pharmacy revenue averaged $1,843,342 in the ASCO survey.
Brieva mentions many other trackable metrics, such as the time to start treatment, adherence to treatment guidelines, rates of side effects and complications, patient retention rates, treatment completion rates, and coordination of care with other providers, which may be additional metrics your practice wants to track.
Touloukian says that practices must be careful how they measure some metrics because if you're extracting data from the EMR and someone hasn't entered it correctly, you won't get accurate information. "I like programs like QOPI because while it's a little labor intensive, my staff actually goes in and extracts the data from the charts and shows the proof."
"Comparing yourself to other [oncology] practices across the nation helps to ensure you're achieving a certain level of success on some of these traditional metrics," says Touloukian.
Jennifer Nelson is Features editor at Medscape. Her work has also appeared at WebMD, Medical Economics, MedPage Today, as well as The Washington Post, AARP, US News & World Report, The Oprah Magazine, Women's Health, and others.
For more news, follow Medscape on Facebook, X (formerly known as Twitter), Instagram, and YouTube.
Source: Read Full Article