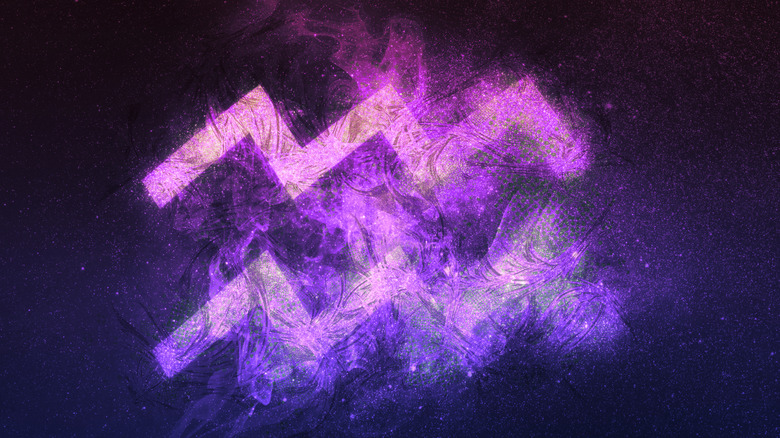 Aquarius is considered to be the most revolutionary of all the zodiac. The fixed air sign, born from January 21 to February 20 (via the Daily Express), is represented by a water bearer and mystical healer who "bestows life" unto others (via Allure). Therefore, it's no surprise that most Aquarians are die-hard humanitarians. When they're not fighting the broken class system, you'll find your typical Aquarian participating in a protest or posting about inequalities on Facebook. Those born Aquarius possess a desire to elicit change through radical social progress, which shows up via their rebellious nature and rejection of authority.
But the distaste for social norms doesn't stop at their attitude. Thanks to some strong eccentric and creative traits, the Aquarian need to subvert convention can often be observed physically through their fashion sense. And because Aquarius is ruled by innovative Uranus, they're also known to inspire. The following Aquarians have made headlines for dancing to the beat of their own drum, especially when it comes to choosing a wardrobe.
Aquarius Harry Styles dresses feminine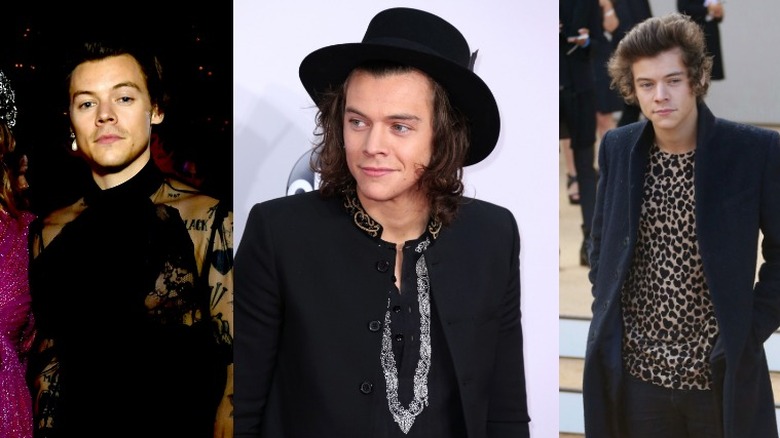 Aquarius Harry Styles, born February 1, broke the internet when he donned a dress for Vogue's December 2020 cover. Styles' decision to break gender norms by wearing a Gucci lace-trimmed gown paired with a blazer was met with both praise and backlash. While some admired the androgynous look, others condemned him for his feminine attire. But Styles didn't allow the fallout to dull his shine.
"Clothes are there to have fun with and experiment with and play with. What's really exciting is that all of these lines are just kind of crumbling away," Styles told Vogue. "There's so much joy to be had in playing with clothes. I've never really thought too much about what it means — it just becomes this extended part of creating something." We couldn't agree more! 
In response to haters like conservative pundit Candace Owens, Styles responded in true Aquarius fashion. He took to Twitter to post another photo of himself in a feminine pantsuit with the snarky caption, "Bring back manly men."
Paris Hilton was an early 2000s fashion icon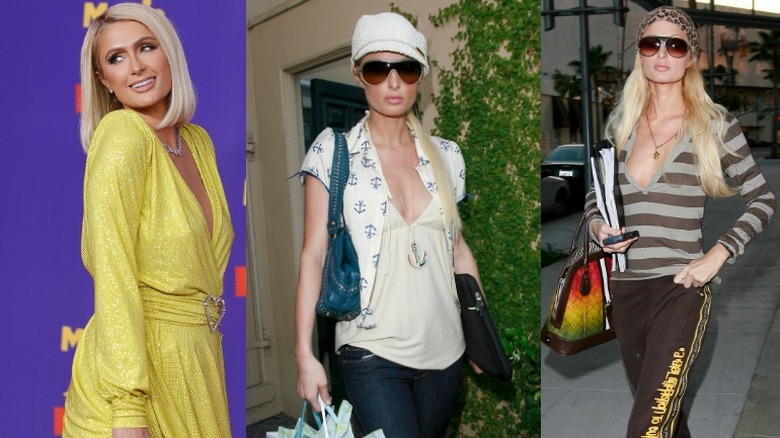 Paris Hilton is the perfect example of a rebellious Aquarius. Born February 17, Hilton stormed onto the early aughts scene and introduced the public to Juicy Couture tracksuits, side bangs, and crop tops (via College Fashion). Her party lifestyle made headlines, but it was also Hilton's brand as a real-life Barbie doll that had fans following her every move … and outfit.
From her hit reality show "The Simple Life" to the runway to the red carpet, Hilton took every opportunity to show off her flawless fashion sense in all its giant-aviator-sunglass glory. Since Hilton's early reign, she's evolved her heiress identity to include a more private persona as DJ and businesswoman (via Elite Daily), including a collaboration with fast-fashion retailer Boo Hoo (via Bustle). 
Never one to be mistaken for a wallflower, Hilton still opts for bright colors, but she's replaced her flip flops, body glitter, and low rise denim with Diane von Furstenberg (via Vogue).
The Weeknd rocks the monochrome look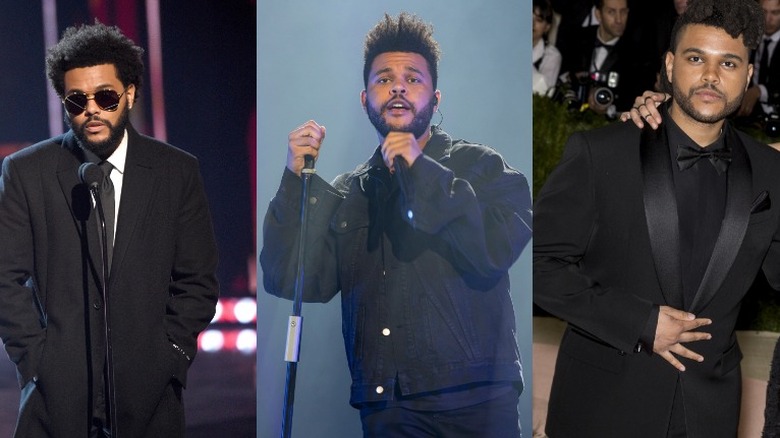 Born February 16 as Abel Tesfaye, singer The Weeknd uses both music and style as his signature Aquarian creative outlets. When Tesfaye isn't laying down tracks, he's sporting an all black monochrome look. Whether or not Tesfaye is playing a character from his 2020 album "After Hours," we're unclear, but he's chosen to wear different variations of the dark uniform since 2016. Tesfaye completes his brooding look with boxy '80s jackets, skinny jeans, and high tops (via Esquire).
But while he may wear the occasional oversized blazer, Tesfaye tends to opt for a more tailored look when donning his no-frills blacked-out outfits. You'll rarely find him straying from the dark aesthetic, but when he does, Tesfaye goes all out with a camouflage jacket, head-to-toe Gucci or facial prosthetics. Tesfaye is the king of keeping fans guessing and we can't wait to see what the Aquarian Starboy wears next!
Megan Thee Stallion had a style evolution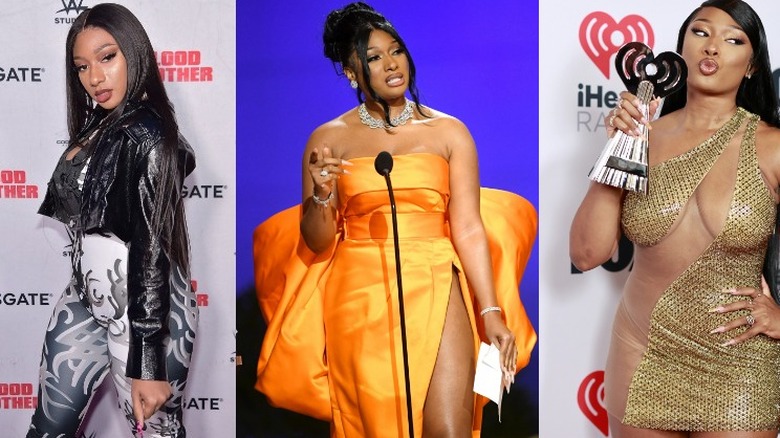 Singer and rapper Megan Thee Stallion, born Megan Pete on February 15, had a style evolution to match her career progression. Back in 2018, Pete was no stranger to award shows like the BET Hip Hop Awards, but she certainly wasn't wearing Calvin Klein. A typical outfit for Pete included a Von Dutch shirt and jean shorts over fishnets (via W Magazine), but since the "Savage" singer's career has taken off, complete with three fresh 2021 Grammys (via the Recording Academy), Pete has presented a more polished look including opera gloves and gowns.
Lucky for us, fame hasn't changed Pete's inert Aquarian nature. Never one to be boxed in, she's had an ever-shifting personal style, including bold choices like neon green, red leather, and contrasting prints. In a 2018 Billboard interview, Pete revealed why dressing the way she does is so important. "Confidence literally starts from yourself," Pete explained. "You have to go look in the mirror at yourself. If you don't like what you see, you're going to give off that energy." And thanks to a Fashion Nova partnership, Pete is bringing her unique fashion approach to the masses.
Source: Read Full Article