As reported, monkeypox cases continue to rise — with a global tally of more than 1 200 cases. The US Centers for Disease Control and Prevention (CDC) is racing to identify cases and communicate how to mitigate spread of the virus. But in those efforts, they have unintentionally caused confusion, experts say.
Last week, the CDC issued a travel alert advising the public to "practice enhanced precautions," such as washing hands and avoiding close contact with sick people. Among their recommendations was mask wearing. "Wearing a mask can help protect you from many diseases, including monkeypox," the original notice said. On Monday, June 6, that recommendation was removed because it "caused confusion," a CDC spokesperson said in a statement to Reuters.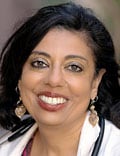 Dr Monica Gandhi
The now deleted statement differed from previous messaging from the CDC and the World Health Organization (WHO); both had emphasized that the virus is primarily transmitted through close contact ― such as skin-to-skin contact ― with someone who is infected with monkeypox. This new travel advice from the CDC "made it seem like the infection was transmitted by casual respiratory contact," said Monica Gandhi, MD, MPH, associate chief of the Division of HIV, Infectious Diseases, and Global Medicine at the University of California, San Francisco, in an interview with Medscape Medical News.
"The problem with that statement is that it can be interpreted as if masks are the solution to preventing monkeypox transmission, which is not at all the case," added Shira Doron, MD, an infectious disease physician and hospital epidemiologist at Tufts Medical Center in Boston. "Masks would have a negligible effect on monkeypox transmission," she said in an interview with Medscape.
How Monkeypox Spreads
The monkeypox virus can be transmitted from person to person from direct contact with monkeypox lesions or bodily fluids from an infected person or from materials that have come into contact with the virus, such as bedsheets and clothing. The virus can also spread from respiratory droplets from prolonged, close, face-to-face contact, such as kissing, Gandhi said.
These respiratory droplets can also come from coughing or sneezing, neither of which is a symptom of monkeypox; however, Doron noted that this is not the predominant means of transmission in this current outbreak. "Based on the current epidemiology of this outbreak, being almost exclusively in men who have sex with men (MSM), this virus is transmitting by close, prolonged, skin-to-skin contact," she said. "If it was even largely being transmitted by respiratory or airborne routes, you wouldn't see such a tiny proportion of infected individuals being female."
Although the monkeypox cases that have been reported are not identified with respect to gender, the CDC noted in a press call on June 3 that of 17 examined patients with monkeypox, only one was a woman. She had traveled to West Africa — where monkeypox is endemic — and she reported that she had engaged in heterosexual sexual activity.
Investigators are not yet sure whether the virus can also be spread via sexual intercourse or if the infection is being spread during sex via close physical contact.
Containing the Spread
There has also been concern about the continued spread of the monkeypox virus and whether the virus could become established in one of the 29 countries in which the virus is not endemic but that are now reporting cases. In a June 8 press conference, the WHO director-general, Tedros Adhanom Ghebreyesus, PhD, noted that this risk was "real" but also said that "there is still a window of opportunity to prevent the onward spread of monkeypox in those who are at highest risk right now."
The WHO recommends contacting a healthcare provider if you have symptoms of monkeypox, such as a skin rash or lesions, or if you suspect you have come in close contact with someone infected with the virus. Infected individuals should self-isolate until the lesions have resolved, and individuals who have had high-risk exposure to the virus should isolate for 21 days.
Gandhi and Doron seemed optimistic that the outbreak could be contained. "I don't think it is going to be a COVID-like event," Gandhi said. "It's absolutely something to pay attention to, to be concerned about, to have public health departments be on top of…but I wouldn't raise the alert for the general population."
There's no evidence of asymptomatic or presymptomatic spread of monkeypox, "which is great news," Doron said. "If you are able to avoid prolonged contact with someone who has symptoms, then you are likely very safe."
Still, Doron noted that expanding access to testing is necessary to adequately identify cases in order that patients can isolate themselves and that public health officials can conduct contact tracing to mitigate future spread. Currently, testing for orthopoxvirus — the family of viruses to which the monkeypox virus belongs — is not conducted in hospital labs and that such testing is performed in only 74 labs across the country, STAT reports.
To request an orthopoxvirus test, physicians need to call their state's public health authority to make the case. Usually, but not always, a suspected monkeypox case will meet one of three criteria: the patient identifies as MSM, the patient has traveled to a country where there is an outbreak, or the patient has been in close contact with a person who has a confirmed or suspected case. Without approval from the state, a test cannot be conducted.
That bottleneck as well as the limiting guidelines could lead to monkeypox cases being missed, Doron said. "I would like to quickly get to a point where we can broaden the criteria for who we test," she noted. "I would love to very quickly get to a point where we're doing the test in hospital labs and not having to get permission."
For more news, follow Medscape on Facebook, Twitter, Instagram, and YouTube.
Source: Read Full Article